Free Tank Job Estimate, Call Now: 631-881-4772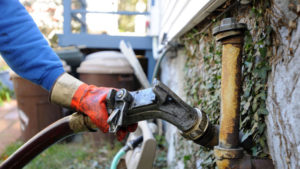 Having an oil tank is not easy, especially when it comes to its maintenance and checking for leakage. Since oil tanks are installed near the property, people should have to pay extra attention on their performance and safety. They have to make sure that oil doesn't spill and creates problems for the inhabitants.
Oil usually spills when the tank is filled improperly or the tank is delivered to the wrong place. However, leakage occurs when the installers didn't work efficiently or homeowners didn't conduct a round of maintenance. These problems may lead to soil contamination, loss of heat and property damage that cause water issues and freeze-ups. When oil tank spills from the basement, it causes crack or drain that contaminates the environment whereas, when the tank spills oil from outside, it affects storm water drain, adjacent properties, groundwater and sewers.
To avoid these problems, people should have to consider some facts and take precautionary measures so that tanks do not leak or spill oil. Let's have a look at some of the important things to do:
Home Heating Oil Delivery
Before installing oil tanks, homeowners must ensure that they are thoroughly tested and inspected by the contractor and fuel truck technician/driver. Now, the considerable facts are: What does initial inspection include? How are homeowners rest assured about the condition of the oil tanks? According to the experts, initial inspection involves the following steps:
Confirming the oil delivery address Long Island
Inspecting the oil tank, filter, vent pipe, oil supply lines and fill pipe.
Installation of tank gauge and position of vent and fill pipes in order to avoid water or snow accumulation.
Vent pipe should be free from obstructions, vent cap is not blocked/clogged and vent alarm is working properly.
Oil heat equipment should be installed according to the manufacturer's instructions, building codes, NFPA codes and local authority regulations. Apart from this, experts also give the following tips:
Oil tank should be placed at least 5ft away from any heat source.
There should be a gauging device for checking the level of oil and a vent alarm that whistles when the tank is full.
If possible, install tanks inside the home because it reduces temperature swing, condensation inside the tank and degradation of oil.
Oil Tank Corrosion and Maintenance Prevention
Rust or corrosion is one of the common causes of oil leakage that occurs either internally or externally. Oil tanks leak from outside when there is an electrical activity between its surface and the surroundings whereas, internal leakage occurs due to the presence of water that cause corrosion in steel. Even, condensation causes damages to the surface of the oil tank that result in oil leakage. So, to avoid such problems, homeowners should have to take some steps:
Install oil tanks inside the home, if possible. Or else, if it is necessary to place outside, place an enclosure to avoid condensation.
New tanks should be properly drained before installation.
When new tank is installed, never transfer old oil to it because old tank might have sludge and water that would lead to premature tank failure.
Regularly check oil tanks for water accumulation. If water is present, drain or pump it until clean oil flows through the pipes.