FREE Oil Tank Replacement Estimate: 631-881-4772
When it comes to oil tank replacement on Long Island, you have many options. There are different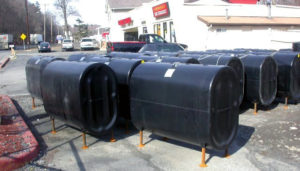 companies who can replace your residential or commercial oil tank. It's important to choose an experienced company who has skilled and trained technicians. Domino Oil Tank Service has been in the heating business for almost 30 years, and we've served thousands of happy Long Island customers. New oil tanks can be expensive – consider it an investment in the safety of your home. With the advancement of technology the cost of machinery is also increasing, new models and double wall tanks are available. We sell and install all top brand oil tanks.
If your oil tank is old or leaking, that can lead to a lot of issues, including environmental issues which are difficult and expensive to fix. There's also the cost of replacing the leaked oil.
One important thing that oil tank owners should know is that in a context of oil tank replacement, in many areas, you can forcefully be subjected to fines if the oil has leaked into the ground surrounding your tank. In these cases the cost of a new oil tank and cost to replace oil tank will eventually be an unavoidable expense. By keeping an older tank in leak-free condition with regular maintenance, you may be able to avoid an unpleasant event when replacement is necessary. Oil tank replacement cost will also minimize. Given current oil prices, tank maintenance is an expense that's worth it. Ultimately, the small cost of oil tank inspections and repairs is just part of being a responsible homeowner. It keeps you safe from many unknown expenses that happen only because of the ignorance of the owner.
Replacing an Oil Tank
Installing and replacing an oil tank, typically above ground can run between $1,000-$3,000, it also depends on the size of the tank and type (what type of steel quality has been used, fiberglass or combination and single or doubled wall construction).Give us a call today to learn how much does a new oil tank cost, the size of the tanks, tank types, maintenance, integrity, control mechanism, protection of the tanks, testing, insurance and the cleaning of the tanks.
Prominent risks for the homeowners includes the home heating oil tank leak and environmental contamination and oil tank replacement cost can be involved. Some companies are providing extensive free oil storage tank inspection authoritative, and testing advice for the owners of the property and the buyers of the property.
The home oil tank prices, home heating oil tank replacement cost, sizes, and capacities for home usage typically range in capacity between 220 gallons  and 330g, and larger domestic tanks have a capacity more than 550 gallons.